Fixture Schedule Overview ウィンドウ
Fixture Schedule Overview ウィンドウは、Patch and Fixture Schedule ウィンドウ の画面2にあります。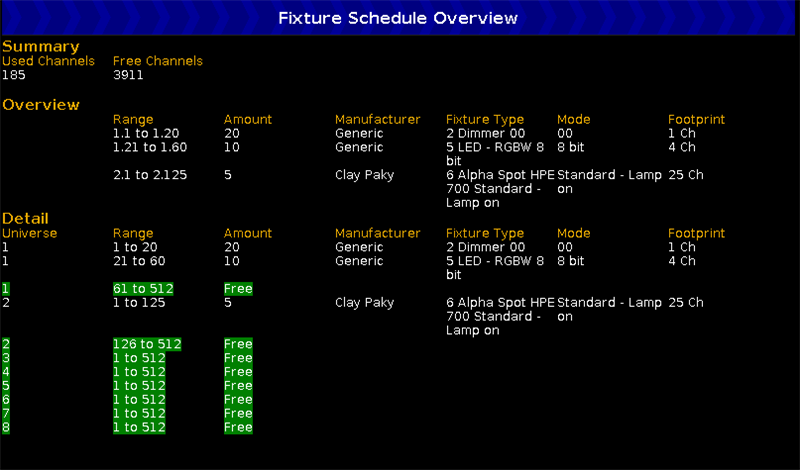 このウィンドウには、ショーファイルにインポートされているフィクスチャについての概要が表示されます。
ウィンドウは、Summary、Overview および Detail という三つの部分に分けられています。
Summary
The summary displays how many DMX channels are in use and how many DMX channels are free.
Overview
The overview is sorted by fixture types and includes six columns.
Range:
Displays the range from the first start DMX address till the last used DMX address of this fixture type.
Amount:
Displays the how many of this fixture types are imported into the show file.
Manufacturer:
Displays the manufacturer.
Fixture Type:
Displays the consecutive number and the fixture type.
Mode:
Displays the selected mode.
Footprint:
Displays how many DMX channels of this fixture type needs.
Detail
The detail view is sorted by DMX address.
Additional to the columns from the overview, the detail view displays which DMX address are in use and which are free.
Free DMX addresses are displayed with a green background.
関連事項