Executor Bar ウィンドウ
Executor Bar ウィンドウに移るには、エクゼキュータバーをスワイプまたはタップしてください。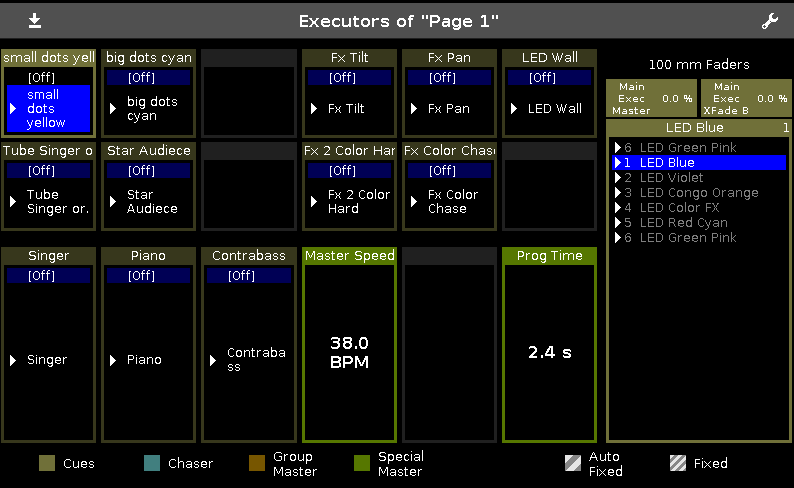 このウィンドウは、エクゼキュータバー の詳細表示です。
Change Functions of Executor ウィンドウに移るには、タイトルバーの

アイコンをタップします。
エクゼキュータの設定を変更するには、そのエクゼキュータをタップしてください。Settings of Executor ビュー が開きます。
タイトルバーには、現在のページが表示されます。
エクゼキュータ・ページを切り替えるには、Page + / Page - を押すか、Page プールビュー を用います。
エクゼキュータ色は、そのエクゼキュータの種類を表しています。
The executor window on screen 2, is fragmented in the main executor (right), 12 normal executor buttons (first two lines) and 6 fader executor buttons (bottom line).
If you use a dot2 F-wing or dot2 B-wing, the executor bar looks like the corresponding wing.
If you store a cue on a executor, the console asks to label the first cue and the executor.
If you don´t tap the label pop-up, the executor is called Exec.
The blue bar displays the fade time of the cue from 0 % to 100 %.
If an executor is assigned with cues, it is at first the trigger icon displayed and then the cue number and cue name.
エクゼキュータに対するタイムコード記録が動作している場合、

アイコンが点滅表示されます。
The current cue is displayed in the second line, that the cue before and afterwards are visible.
If the executor is on, the executor button is highlighted and the current cue is displayed in the second line along with a bright blue background.
If the executor is off, in the second line is an [Off] displayed along with a dark blue background.
To close the executor bar window, slide down in the window or tap the minimize icon

in the title bar.
エクゼキュータについての詳細は、エクゼキュータとは を参照してください。